The ultimate AI-Assistant on WhatsApp: Simplify your life with text and voice messaging and personalized commands.
The Power of ChatGPT.
The Convenience of WhatsApp.
Choose your AI power
GPT3.5 Turbo or GPT-4 selection
Personalized AI experience
Rapid, precise info
Voice Recognition
Voice-to-chat capability
Hands-free command input
Convenient and effortless
Commands
Special commands available
Simple AI management
Expanded control and function
START USING INFORMATE
Transform your WhatsApp experience with the power of AI. Begin your journey with Informate now!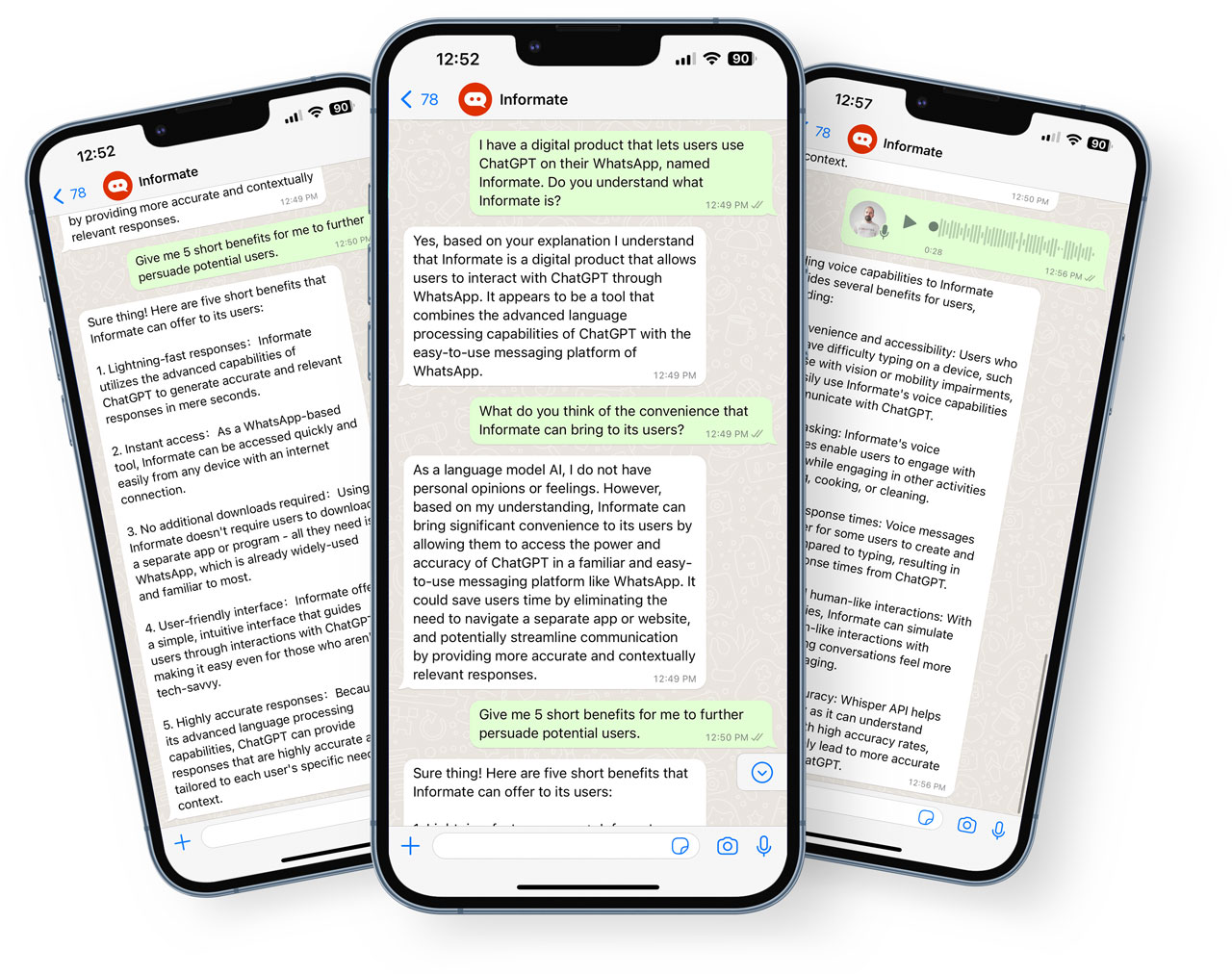 Informate: For Every Curious Mind
Dive into the seamless integration of ChatGPT and WhatsApp, just a voice or text away.
Curious Minds
Enjoy powerful insights and discover new knowledge effortlessly.
Busy Professionals
Boost productivity with instant information and handy reminders.
Educators & Students
Engage in complex topics and access study material interactively.
Innovators & Tech Enthusiasts
Experience cutting-edge conversational AI firsthand.
Connected Chatters
Add a layer of intelligent interaction to your WhatsApp experience.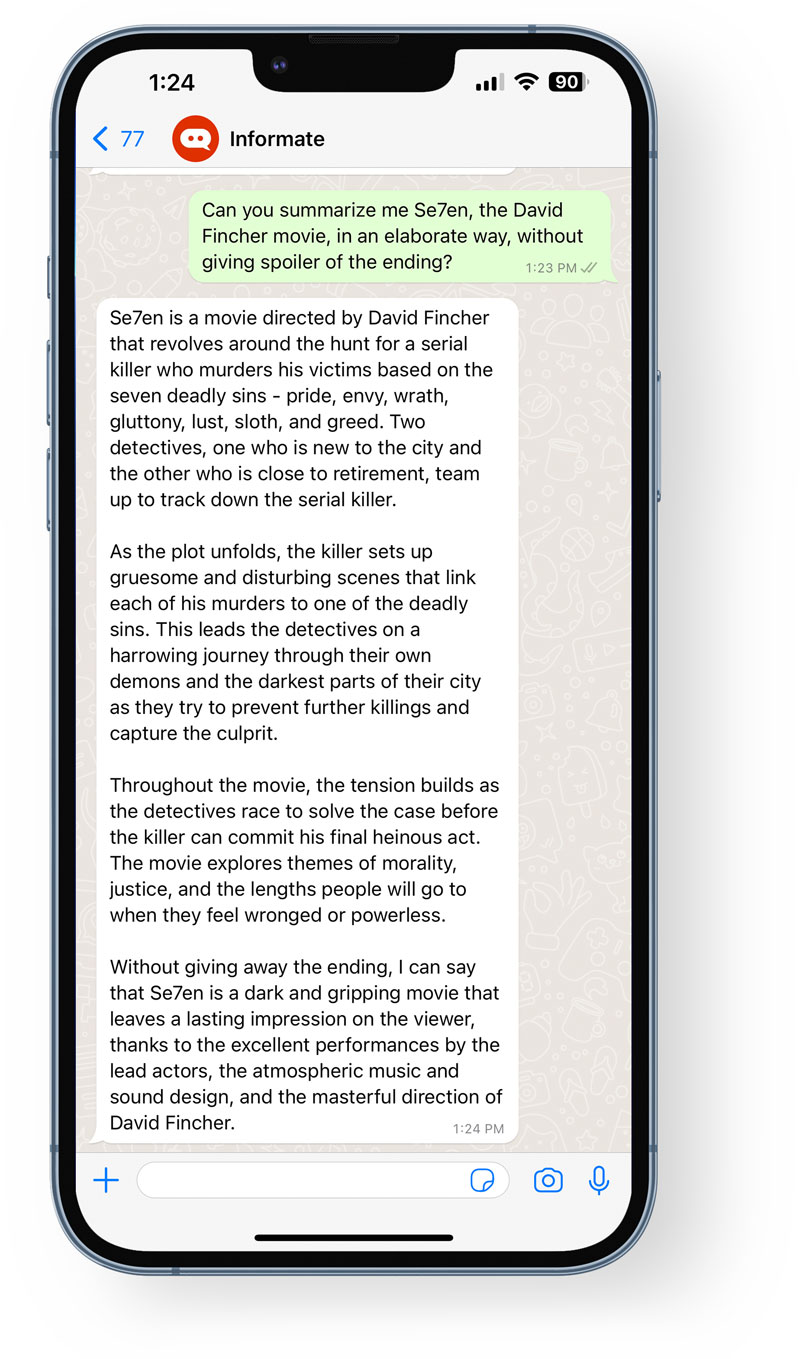 Informate in Action: Simple Steps
With Informate, your ChatGPT experience is easy and secure:
Subscribe

to unlock Informate's full potential.
Your conversations with ChatGPT are based on

the last 20 messages.

.
We

securely store and encrypt

the last 20 messages in our database.
While communicating with ChatGPT's API,

messages are decrypted, sent, and encrypted again

upon receiving the response.
Use the "!reset" command to

clear your conversation history

at any time.
Enjoy a seamless, user-friendly, and secure AI chat experience with Informate!
Discover Informate Commands
Gain rapid insights, personalized learning, and elevate conversations to simplify your life.
!help
Support when you need it
Feeling lost? Use the !help command to receive guidance on navigating Informate and making the most of its features.
!reset
Reset and refresh
Wipe the slate clean by clearing the message memory, allowing you to start a new conversation with Informate from scratch.
!act
Customize your prompt
Tailor your AI assistant's behavior by changing the system prompt with the !act command. Experience a more personalized interaction with Informate.
!stats
Track your progress
Stay on top of your usage statistics and daily streak with the !stats command. Monitor your progress and stay motivated in your learning journey.
Voices of our Community: Real Experiences
Discover how Informate is enhancing our users' day-to-day conversations and learning experience.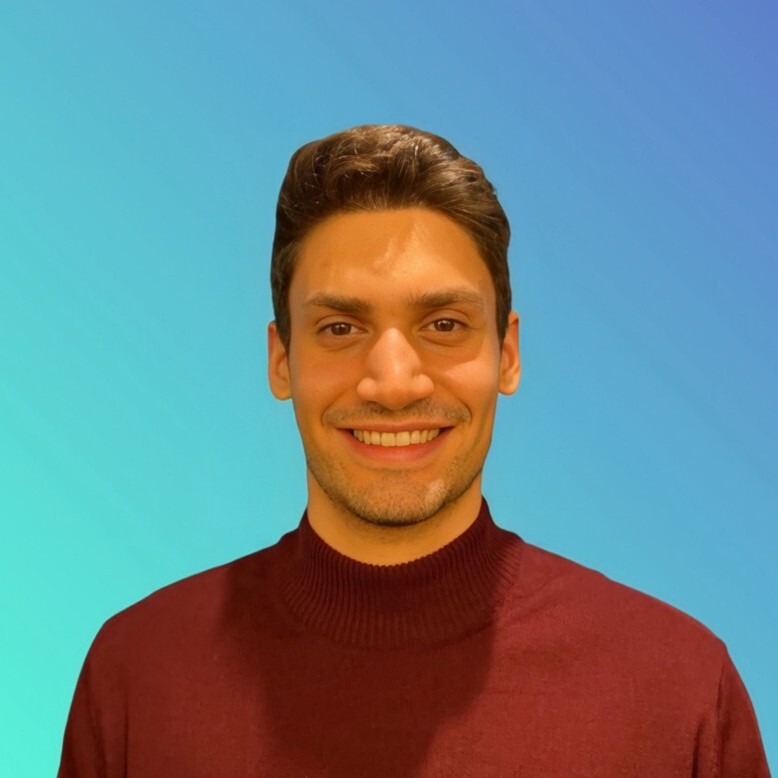 "Informate has made it even more convenient for me to access the most powerful tool on my phone. Since having Informate in my daily routine, I've found myself using my mobile browser far less than before."
Sertaç Akdoğan
Product Manager at Omnicourse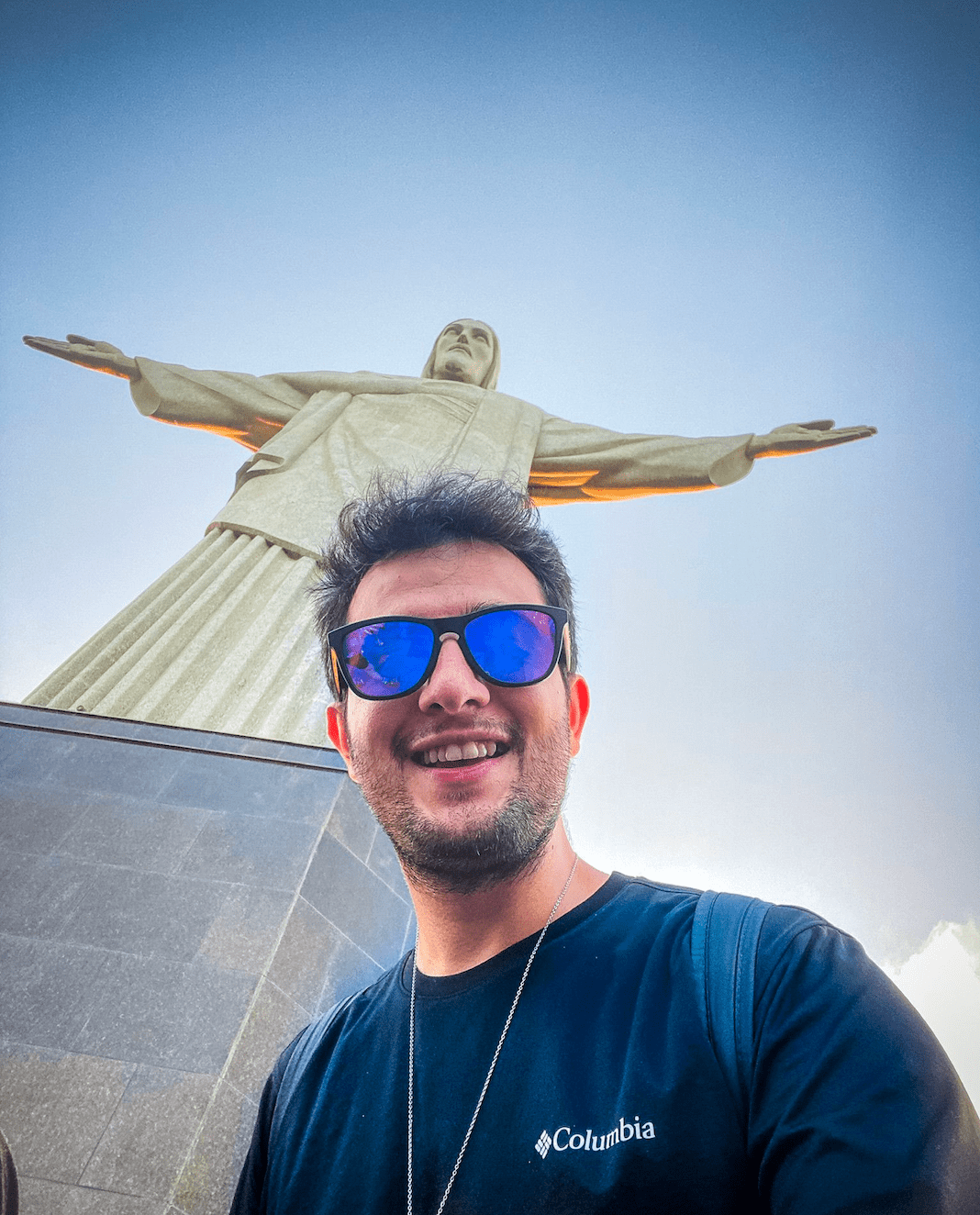 "I was hesitant to try ChatGpt on WhatsApp, but it exceeded my expectations. The AI tool understood and responded quickly, making communication efficient. I recommend ChatGpt on WhatsApp for improved workflow and connectivity. Thanks Informate!"
Furkan Kumkaya
Digital Nomad, Influencer
Invest in Knowledge: Our Pricing
Choose the AI experience that fits your needs and budget.
Monthly
Annual (2 months free)
Standard Plan
GPT3.5 Turbo
With our GPT3.5 Turbo plan, engage in smart, interactive conversations that elevate your communication.
Unlimited access to ChatGPT on WhatsApp
Text and voice messaging support
Conversation history up to the last 20 messages
Data encryption and privacy protection
SUBSCRIBE NOW
Power Plan
GPT-4
The GPT-4 plan gives you access to a wider range of insights and an enhanced conversational experience.
Unlimited access to ChatGPT on WhatsApp
Text and voice messaging support
Conversation history up to the last 20 messages
Data encryption and privacy protection
SUBSCRIBE NOW
FOR A SHORT PERIOD OF TIME
Upgrade to Informate's lifetime plan for only $109.99 to use ChatGPT limitless! Embrace ChatGPT 3.5 Turbo, text and voice messaging, and data protection. Boost your AI learning journey now!
SUBSCRIBE NOW
By clicking "Subscribe Now" you agree to our Privacy & Terms.
Empower Your WhatsApp Experience: AI-Driven Conversations & Learning
Discover the innovative Informate, an AI-powered assistant that brings ChatGPT directly to your WhatsApp experience. Engage in intelligent conversations, effortlessly acquire knowledge, and enjoy personalized learning through simple voice and text messages. Informate is perfect for users looking to elevate their WhatsApp chats with AI-driven insights and explore various topics with ease. Our user-friendly platform is designed to meet the needs of both casual and professional users, making it the ideal choice for those seeking a seamless and engaging AI assistant on WhatsApp. Experience the future of communication and learning with Informate - your go-to solution for an enriched WhatsApp experience. Don't wait, subscribe now and unlock endless possibilities with Informate.
In a nutshell:
Instant Insights
Voice Capability
Personalized Learning
Special Commands
Data Encryption
Unlimited Access
FREQUENTLY ASKED QUESTIONS
How much does Informate cost?
What's the difference between the GPT3.5 Turbo and GPT-4 plans?
What kind of special commands does Informate recognize?
Can I use Informate in any language?
What if I have a problem or need help?
How do I get started with Informate?